Top Ten Super Bowl Halftime Shows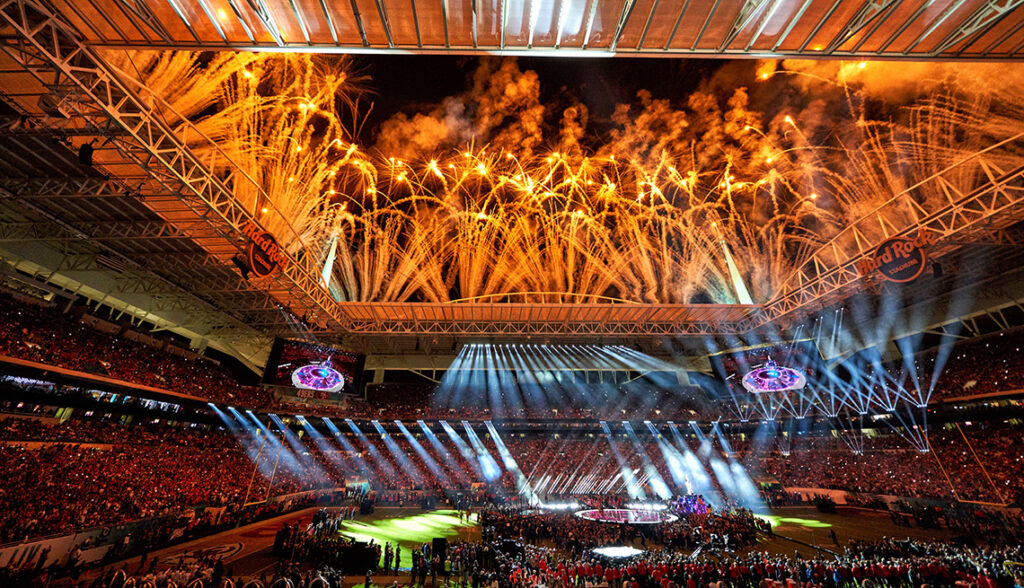 The Super Bowl, the final event of the NFL season where the top two teams compete in the championship game is on Sunday, February 13th at 6:30 p.m. While the Super Bowl is the biggest sports event of the year for football fans, the Super Bowl is also known for its infamous halftime shows where millions of people, football fans, music-enthusiast, and everyone in between gather around to watch phenomenal performances from entertainers old and new.
This year the halftime show will be jam-packed with hip-hop artists including Dr. Dre, Eminem, Snoop Dogg, Mary J. Blige, and Kendrick Lamar. In honor of this year's Super Bowl, here is a list of the top ten halftime shows.
Michael Jackson (1993)
Michael Jackson performed at the 1993 Super Bowl XXVII halftime show. His setlist included "Jam" with the beginning of "Why You Wanna Trip On Me," "Billie Jean," "Black or White," "We Are the World" with 3,500 Los Angeles Children, and "Heal the World." The performance was not filled with extreme effects or wild outfit changes, but it was a humanitarian effort where NFL and Frito-Lay agreed to donate $100,000 to the Heal the World Foundation.
Coldplay performed at Super Bowl 50 in 2016. Their setlist included "Yellow", "Viva La Vida", "Paradise", "Adventure of a Lifetime." They performed on a brightly colored stage with color-changing lights. After "Adventure of a Lifetime," Bruno Mars joined the performance performing "Uptown Funk" before Beyonce joined in singing "Formation" The two took part in a dance battle medley of their respective songs. After the Beyonce and Bruno Mars songs, Coldplay continued along the two singing "Clocks," "Fix You," and "Up and Up."
Bruno Mars and the Red Hot Chili Peppers (2014)
Bruno Mars performed at the Super Bowl XLVIII halftime show in 2014. His performance started with "Billionaire" sung by a children's choir and then the spotlight hits Bruno Mars at the front of the stage playing the drums. After a drum solo that had crowds going wild, he starts with his first song, "Locked Out of Heaven." With seamless transitions between songs, his set list included "Treasure" and "Runaway Baby," and then the Res Hot Chili Peppers were onstage. Mars, who is a huge fan of them performed "Give It Away" with them. As a tribute to the United States Armed Forces, he concluded his performance with "Just The Way You Are." Even without crazy special effects and outfit changes, Mars' performance was a memorable one because if he brought anything to this performance it was energy that had the crowd hyped. 
Katy Perry and Missy Elliott (2015)
Performing in the Super Bowl 49 halftime show, Katy Perry starts her performance on a giant metal tiger singing "Roar," before she takes the stage with people dressed up as chess pieces singing "Dark Horse." Lenny Kravits then joins her on stage in a rendition of "I Kissed a Girl" as flames burst out of the back of the stage. Suddenly the stage completely changes to a beach scene as she sings "Teenage Dream" and "California Gurls." After the aforementioned performances, she is joined by none other than Missy Elliot in "Get Ur Freak On"/"Work It" before Missy Elliot performs "Lose Control" as a solo. The halftime show ends with Katy Perry singing "Firework." Like most performances, Katy Perry is decked out in crazy outfit changes and joined by wild sets, this is no exception as she stands on a small shooting star floating platform during "Firework"
Aerosmith, Britney Spears, 'NSync, Nelly & Mary J. Blige (2001)
The 2001 Super Bowl half time show started with a pre-recorded bit including Ben Stiller, Adam Sandler, Chris Rock, Aerosmith, and NSYNC, before the performance starts. NSYNC starts with a performance of "Bye Bye Bye." Aerosmith then takes the stage singing "I Don't Want to Miss a Thing." NSYNC once again takes the singing "It's Gonna Be Me." In one more alternating performance, Aerosmith sings "Jaded," before being joined on stage by NSYNC, Britney Spears, Mary J. Blige, Nelly, in an ultimate mash-up for "Walk This Way." The mix of artists and music is something that was unexpected and somehow worked amazing. 
Beyonce (2013)
Beyonce performed at the 2013 Super Bowl starting with "Run the World (Girls)" as her intro before being joined on stage by a guitarist with fireworks shooting out both sides of the instrument during "Love on Top." In the typical iconic fashion of Beyonce, she is dressed in a black leather ensemble with her hair blowing perfectly behind her as she owns the stage which flashes and later ends up with fire shooting out of it. Along with the previous songs she performs "Baby Boy," "Bootylicious," "Independent Women Part 1," and "Single Ladies (Put a Ring on It), for those songs with the exception of "Baby Boy" she is reunited with the rest of Destiny's Child. The final song she performs is "Halo."
Madonna performed at the Super Bowl XLVI in 2012. The performance starts with Madonna being rolled out on a platform, surrounded with backup dancers, everyone decked out in gold and black in Roman-Egyptian themed outfits as she starts with her song "Vogue" and the stage starts changing designs of Vogue covers. The song seamlessly changes to to "Music" which she performs with LMFAO on. With her next song "Give Me All Your Luvin'" Nikki Minaj and M.I.A join her, before her last song "Like a Prayer" where she is joined by a final guest Cee Lo Green. The performance included multiple rising platforms and 500 customized outfits. The halftime show ends with her dropping down, disappearing from the stage in a cloud of smoke.
Decked out in sparkling red with a glittering electric guitar Shakira starts the performance singing "She Wolf," "Empire," "Ojos Asi," and "Whenever, Wherever." For her next to songs she is joined by Bad Bunny as she performs a rendition of "I Like It" and "Chantaje," before ending with "Hips Don't Lie" After Shakira's part of the performance, J. Lo enters the stage in a studded leather number singing "Jenny from the Block," "Ain't It Funny," "Get Right" and "Waiting for Tonight" before she is joined on stage with J Balvin for "Que Calor"/"Mi Gente" and finishing with "On the Floor in a bodysuit glittering and reflecting" For the finale of the halftime show Shakira and J. Lo both take the stage singing "Let's Get Loud" with Emme Muñiz before performing "Waka Waka (This Time for Africa)" 
Prince performed in 2007 during the Super Bowl XLI halftime show. His setlist included "We Will Rock You," "Let's Go Crazy," "Baby I'm a Star," Proud Mary" a Creedence Clearwater Revival cover, "All Along the Watchtower" a cover of Bob Dylan's song, "Best of You" another cover by Foo Fighters, and finally "Purple Rain." The performance starts with fireworks and the stage, in the shape of his logo, lighting up. It's incredible, but here's the kicker, it is raining, heavily. Along with Prince being one of the greatest musicians of his generation, I don't think anything beats having Mother Nature as your special effects as he sings Purple Rain, in the rain, on a stage it up purple.
Lady Gaga performed during the Super Bowl LI halftime show in 2017. Her performance starts with her high up in a sparkling silver bodysuit and boots before she jumps down from her platform and ascends onto a turret-like platform and starts with one of her biggest hits, "Poker Face." As the sign ends, she slides down to the stage and starts "Born This Way." Along with the aforementioned songs, her setlist included "Telephone," "Just Dance," "Million Reasons," and "Bad Romance." Her phenomenal performance included a color-changing stage with an outfit change and amazing backup dancing enhancing her already captivating stage presence.
You may be interested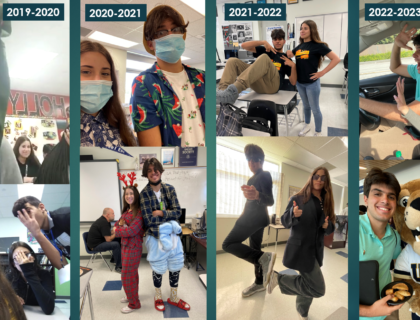 Student Life
0 shares71 views
Most from this category